Intricate Indian Wedding Jewelry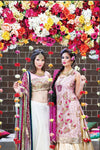 Intricate Indian Wedding Jewelry


For many of us, the first thing that may come to mind at the mention of a wedding is a bride in a white gown. So, when we look to eastern cultures and find ourselves emersed in vivid colors and beautiful rituals, we are amazed by the elegance that paints a story of a culture deep-rooted in a magnificent history.

Having grown up the granddaughter of one of the most notoriously influential and opulent Indian rulers—Maharaja Bhupinder Singh of Patiala—the sights and traditions of India are one that Manjusha Jewels designer, Jyotsna "Joey" Singh, knows all too well.

When Joey decided to submerge herself in the world of jewelry design, it came as no surprise that her exposure from a young age to the ornate royal jewels would inspire her to create pieces that required the same level of elaborate detail.

Whether kundan, meenakari, or jadau, Indian wedding jewelry designs are almost always extravagant. This outwardly display of luxury is a defining characteristic meant to demonstrate the affluence of the bride's family to guests and, perhaps more importantly, the groom's family. The same can be said for the wedding garments and overall visual design of the event.


Jadau jewelry designs by Jyotsna Singh
South Asian Bride Magazine
Anais Events
For Joey, the history and technique behind jadau jewelry are what fascinated her the most and motivated her to create her own. First introduced by the Mughal Empire, and passed down and perfected for hundreds of years by Rajasthan artisans, jadau jewelry requires the utmost care and skill. The process involves the embedding (jadau means to embed in Hindi) of gemstones, such as diamonds and pearls, in pliable gold. In Indian culture, the designers of jadau are known as Chitereas, while Ghaarias are responsible for the actual shaping of the gold.
Jadau jewelry designs by Jyotsna Singh
South Asian Bride Magazine
Anais Events
Jadau pieces can take months to complete and result in intricate creations of the finest metals and gems that both enhance the organic essence of the stones and the natural beauty of women, while simultaneously exhibiting the significance behind these traditional adornments.

Although Joey has since moved on from designing Indian wedding jewelry, it remains a source of inspiration that can be seen in all of her creations, and continues to live on through the photos and memories of the brides whom they've adorned.
Leave a comment
Comments will be approved before showing up.